On Jan. 15, thousands of people, including great representation from AFT members, rallied in cities across the country to stand up against plans to repeal and replace the Affordable Care Act as well as efforts to privatize Medicare and Medicaid.
"Our first stand," the theme for the nationwide protests and rallies was the first step in opposition to the effort by congressional Republicans and President-elect Donald Trump to take healthcare away from millions of Americans who depend on the Affordable Care Act for health coverage.
Republicans took a significant first step in repealing it last week when both the U.S. Senate and House of Representatives voted to approve a budget resolution to begin dismantling the law. "The fact that this Congress used its first days in office to rob millions of Americans of their healthcare coverage makes clear that these legislators are more interested in scoring political points than working for the American people," said AFT President Randi Weingarten. "As a union of health professionals and educators, we've seen firsthand how the ACA has saved lives and created healthier communities. Now all of this is going to be ripped away as Republicans play a political game with no serious proposal for replacing the law."
Raising their voices to stop the attack on the Affordable Care Act, large crowds gathered at more than 70 events from California to Maine. The effort organized by Sen. Bernie Sanders (I-Vt.), Chuck Schumer (D-N.Y.) and Rep. Nancy Pelosi (D-Calif.), along with a coalition of community groups, advocacy organizations and labor unions, including the AFT, inspired thousands who came out to hear from congressional lawmakers as well as people who shared personal stories about how the ACA has helped them.
In addition to protesting, AFT's nurses and health professionals who are part of affiliates in Alaska,  Connecticut, Maryland, Montana, New Jersey, New York, Ohio, Oregon, Pennsylvania, Vermont,  Washington and Wisconsin handed out leaflets in their facilities, mobilized community members to call their members of Congress, and conducted social media campaigns. Here are few highlights: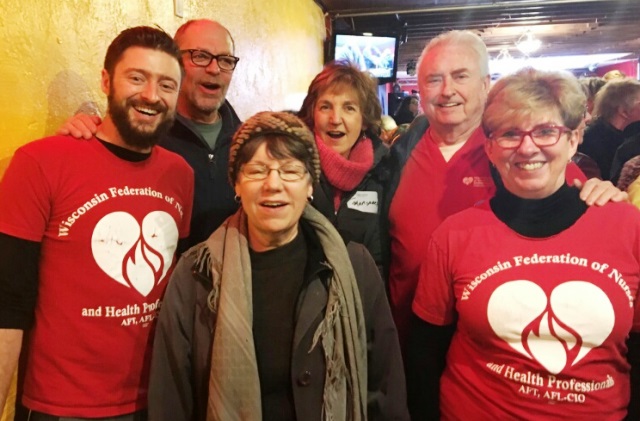 Members of AFT Connecticut were among hundreds who rallied on the steps of the state Capitol in Hartford. "For seven years, we've been listening to Republicans in Congress tell us that they're going to repeal the Affordable Care Act and then replace it with something else," Sen. Chris Murphy (D-Conn.) told the crowd. "Well, now this lie is exposed. They are not going to replace the Affordable Care Act with anything. They're going to repeal the Affordable Care Act and do nothing."
At a rally at Bowie State University in Maryland, Democratic Sen. Chris Van Hollen spoke to an overflowing crowd of 1,500. "Republicans pulled a big bait and switch. They said they would come up with something better. Where is it?" Van Hollen asked. "Everyone knows there are parts of the ACA that need to be fixed. But what they are doing is like if you had a leaky pipe in your house and in order to fix it, you blow up the house."
Rallies were held throughout Wisconsin; hundreds of people attended an event in Milwaukee (second photo), organized by Citizen Action of Wisconsin and co-sponsored by the Wisconsin Federation of Nurses and Health Professionals, where Sen. Tammy Baldwin (D-Wis.) told the crowd that if the Republicans manage to repeal the ACA, there would be chaos. And Rep. Gwen Moore (D-Wis.) told the crowd, "We are not about trying to make America sick again. One thing we've got in common, folks, is that we all are human and we all need a healthcare system that will be there for us."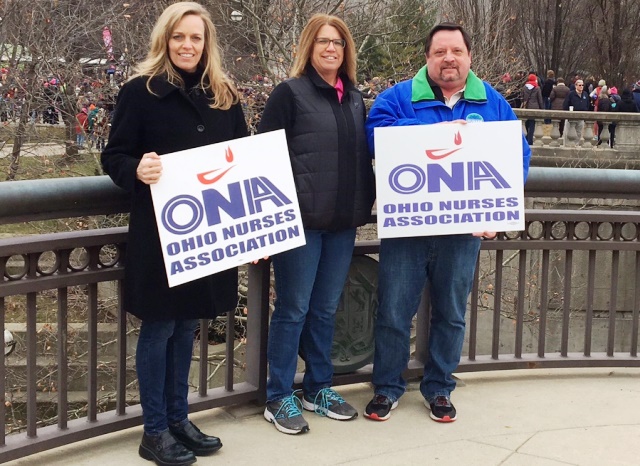 In Portland, Ore., rally goers were joined by Democratic Sens. Ron Wyden and Jeff Merkley; Reps. Earl Blumenauer, Suzanne Bonamici and Kurt Schrader; and Portland Mayor Ted Wheeler. (Top photo.)
Adrienne Enghouse, a registered nurse and member of the Oregon Federation of Nurses and Health Professionals said that attending the "save healthcare day of action" was a call to nurses and health professionals to stand in unity with our patients, communities, and country and say, we must have healthcare for all. "I can't stand by and allow only the wealthy to be healthy," said Enghouse. "I will continue to show up at rallies, town halls and Capitol Hill, at home and in red states, until everyone has access to affordable, quality healthcare."
In Camden, N.J., Ann Twomey, president of Health Professionals and Allied Employees and an AFT vice president, joined with Rep. Donald Norcross,(D-N.J.), who organized an event at Cooper University Health Care. "As frontline health professionals, we've seen what happens when patients delay care because they can't afford it, and we've seen the difference the Affordable Care Act has made to patients and our own hospitals," Twomey told those in attendance. Before the reforms, nurses would see many more people in emergency rooms who weren't getting regular care and were more likely to come back to the ER soon. "They couldn't afford the medications, the follow-up treatments," she said. "We need to keep the protections the ACA provides to patients so that they can get the care they need, when they need it."
Check out #KeepUsCovered and #OurFirstStand on Twitter to see photos and other updates.
The AFT also is urging members to sign a petition opposing Rep. Tom Price as secretary of health and human services.
[Adrienne Coles and news reports/top photo courtesy Naim Hasan Photography]